Browsing Category: "Make Money Online"
Here is a simple, straightforward and powerful site flipping strategy that you can use to make money online fairly quickly and easily…
1) Find a niche for the site
There are many different ways to do this but one good way for sites you are going to flip is to go to Clickbank.com and look at what's selling there. Check out the top 5 or 10 products in each category to get an idea of what's selling in many different niches. If it's high up on the list then it's obviously selling well, so you could choose one to build a site around.
2) Research the keywords
I just use the Google keyword planner tool because it's free, easy to use, and works well enough for me. You can use another tool if you want but there's really no reason to. It's totally up to you.
Look for keywords that relate to the niche you chose above in step one. For example, if you chose the weight loss niche because of how well the products are selling on Clickbank, you could use keywords such as:
weight loss tips
how to lose weight
healthy weight loss
fast weight loss
natural weight loss
And so on…
Choose maybe 10 to 20 keyword phrases that you can base your websites articles/posts around. You will also need to write the articles or hire someone to write them for you, so you can post them on the site as soon as you get it built.
3) Register your domain
Now it is time to register your domain name. I recommend GoDaddy.com for that simply because most of your potential buyers will either have an account there, or will at least know what godaddy is, so it makes it much easier to transfer for free.
You should always try to get a domain name with the main keywords in it or something relevant. For example, using our sample keywords from above you would want to register something like weightlosstips.com if it was available. You can also check .net and .org to get a good domain, but get a .com if you can. Anytime you can get an exact match domain for your keywords you should always do it. Only add extra words when necessary.
4) Build the site
I'm assuming you already have a web host if you are looking into flipping websites, but if you don't then I highly recommend HostGator.
I usually just use the wordpress.org free publishing platform (this is different from their wordpress.com version so don't get them confused) to build the site/blog because they are popular, free, easy to install, have a lot of great plugins, simple to use, have tons of themes to choose from, and so much more. Basically they are perfect to use for building sites to flip. Plus, if you do use hostgator then you can easily install wordpress with just a few clicks of your mouse.
Once you have the site live you need to add the content that you wrote up in step two.
5) Promote the site
There are a few fairly quick and completely free things you can do to promote the site to start getting some traffic to it and maybe even make a little money from it. This is a very good thing to do before you flip it because it looks great to potential buyers and can really increase the value.
The first thing I recommend doing is to submit a few articles to directories. This is a good way to start getting traffic and building backlinks. You should write maybe 5 good quality original articles and submit them to ezinearticles.com as well as a handful of other top article directories. Be sure to put a link or two in the resource box to your site.
Another thing I recommend doing is social bookmarking the site and the articles you posted. This can be done quickly and easily with social media services such as imautomator.com or socialmonkee.com or several other social tools out there for free or a very small cost. You can also just do it manually. I'm sure you already have Facebook, Twitter, LinkedIn, Google Plus, Reddit, Delicious, and other accounts of your own. How much traffic you get from this depends on a number of factors, it could be a lot or very little, but it's definitely worth taking the time to do.
Finally, you should find several blogs and forums related to your niche, and post comments on them or replies to threads. This is another way to get several free backlinks and traffic for very little effort. And it will look good for your auction when you sell the site. Be sure to only post legitimate replies on posts that are relevant to the niche of your site.
Of course, you can do as much marketing as you want. The more the better. But this should be sufficient to help increase the value for a site flip.
6) Build Web 2.0 support sites
Use blogger, tumblr, livejournal and others to build smaller support sites that link to your site for more backlinks and some extra traffic. This goes along with promoting the site in step five but it takes it a little further and looks even better to potential buyers. Plus, you can include some of these web 2.0 support sites in the sale if you want. Not all of them allow you to transfer to new owners but some do.
7) Site maintenance
This is an optional step. If you plan to flip your website immediately then you can skip it. However, if you plan to continue to build several sites for selling at a later time then this step is important.
Monitor and maintain the site to see if traffic and rankings are increasing, and if it starts to make money. If not, you can do more promoting of the site as outlined in steps five and six as well as using other internet marketing strategies. The more traffic, higher rankings, and earnings you can show the site has — the more money it will be worth.
8) Flip it
Selling it on Flippa.com is likely your best option for a quick flip like this but there are other marketplaces you can also sell it on if you want. The amount you get for each site will vary greatly based on several factors. It's impossible for me to tell you right now how much money you will make from each sale. It can be a lot, it can be just a little, or you might not be able to sell some of them at all.
If you really want a rough ballpark estimate, I would say you can probably get around $300 for a site you built from scratch following the steps above without doing anything else, and much more for an established site. But as I said, it's hard to tell, and you will certainly get much more or much less for different site flips. Either way, it can be a great way to make money online considering the actual time and effort needed to work this simple site flipping strategy.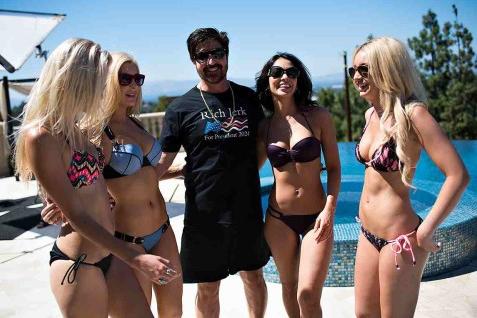 Whether you are new to internet marketing (IM) or been in the business for a long time, you have almost certainly heard of "The Rich Jerk" program.
I'd even be willing to bet you have already bought it or you are planning to. Period. You know it and I know it. I'm trying not to be too overdramatic but it's hard to deny that this is one of those rare don't-want-to-miss products! You probably don't even need a rich jerk review because deep down inside you are already sold.
I bought it twice (yes, 2 times) — the first time when it launched more than a decade ago and again when it relaunched this year — and I am convinced that this is one of the few money making products that virtually everyone can benefit from at all levels. I truly believe that to be a fact. My review of the rich jerk is absolutely positive! I'll tell you that right now as a spoiler alert. But please proceed…
Before you get too far, you might want to check out the Rich Jerk sales page, if you haven't already. It's insane!
The New Version of Rich Jerk Was A Monster Launch!
Be prepared because you're going to be hearing about it high and low from every guru out there, if you haven't already, which means… wait for it… there is a healthy affiliate commission for the marketers. While I can't comment on that commission split, I know it's significant. So, shouldn't that mean you should steer clear of buying this?
No, actually, not in this case! It means that these guys know how to do internet marketing right, as having an army of affiliates is one of the most productive things an internet marketer can do for a big launch.
This actually tells you that these guys know what they're doing. Respect to them for understanding the process of how the niche works; big time affiliates are critical to a big launch.
Should you pay attention to most products that come out in the IM space? Absolutely not! I'd say you should skip about 98% of them. But the Rich Jerk is a truly rare cut above the rest. Dating back to the original version, it has a long history of producing real world results, a very, very long history – it has a lot of changed lives and will continue to do so.
And with such a low entry price point most people will easily find the cash to invest. For those of you who aren't yet fully ingrained in the internet marketing community, you might be a bit confused by this launch, and the sheer audacity of it all. Hang with me and let me bring you up to speed on things really quick…
Who Is The Rich Jerk And Why Should You Buy It? (Even After Seeing That Crazy Sales Page)
The guys behind this system are very much the real deal. Sure, the rich jerk is a fictional persona, but the knowledge contained in the product is very real and life changing, as you will discover immediately after you buy the course.
Yes, they are serious, and no, they are not serious. Confusing, huh? What I mean is that the team over at The Rich Jerk is serious about helping average people get access to life changing online marketing information and tools, but no, they are not serious when it comes to creating their sales page. It's all in good fun and meant to be shocking.
I personally think the sales page is an absolute riot. If you've been in the make money online, internet marketing, SEO, or affiliate game for a while this sales page will smack you right in the funny bone. You know how refreshing it is for something to be different.
No, it is not meant to be serious, and it is basically the opposite of every "how to earn money online" sales page you've ever seen. I get it, and I like it. I hope you did too. If you didn't then maybe you are taking yourself a bit too seriously. The absolute over-the-top-ness is hysterical.
But, it's not all for giggles, there is some serious stuff contained inside the course. The income claims made by many of the top IM folks in the world on that sales page are the real deal. As you may or may not know The Rich Jerk is one of the most successful internet marketing products ever sold.
It really did launch the careers of a lot of the top internet marketing professionals and gurus we all know today back when it originally came out — And this new version is even better!
People in the SEO and make money online world have gotten used to very high priced products, so much so that a few might want to overlook this course due to its lower price. But, we would warn against that, because for your measly investment you're going to learn a lot of golden nuggets in the course. And as you know a few golden nuggets are worth thousands of dollars in our industry.
What Exactly Is Contained In The Rich Jerk Course?
Well, I can't give you specific details, but I can say the program is broken down into several modules. The main ones are:
SEO Training
Facebook Marketing
Launch Jacking
(plus a whole lot more)
These are all very profitable and for the most part passive ways to make money online.
You don't have to babysit clients or wait around for anyone. Just pick your niches, choose your products, create your sites/ads, and collect the cash. I think that's a huge bonus for the average person who is just getting into online marketing. They shouldn't be getting into client SEO or business consulting because they don't yet have the experience and it's a huge time commitment. The Rich Jerk system will let average person get up-to-date information on how to really kill it with SEO and paid traffic to earn money online quickly.
For those of us who've been around the block, we want in on this product because we know that these guys have tested the crap out of these methods and we're getting a lot of expertise for a very appealing price. Higher level SEO and paid traffic courses that go into big time depth are often in the thousands of dollars, and usually still don't give as much real usable information as the rich jerk program does.
If you're looking to get into affiliate SEO to offset your client SEO, this would be a great product to pick up to get you heading in that direction. If you're new to the whole online business realm this should be your very first serious product, do not hesitate to buy now.
As with any legitimate course, in order to get success out of it, you need to follow the methods to the letter.
Even if you already know SEO or Facebook ads, a lot of the stuff in here has never been revealed before, so take everything you know and put it aside to test the new and advanced methods within the course exactly as written. Nothing messes up a marketing campaign more than taking a little from here and little from there and trying to mix the two together. The methods are tested and they work.
Launch jacking isn't really my thing, but I know you can make a lot of money fast with this method. I know many people that do. The caveat here is that, with the big launches, there is going to be some serious SEO competition for the top rankings. You had better know what you're doing or forget about it… Which is exactly why you need this course!
If you have a list of buyers, prospects, or just people interested in internet marketing or making money online then launch jacking is definitely something you can have great success with. The tips in the rich jerk will be very beneficial to you in that area. You can also build your list while earning money on the internet, which will in turn help you make even more. Yes, you can also launch jack products outside the IM space as well. In fact, those can often be even easier and more profitable.
Anyway, there are a lot of other Rich Jerk reviews out there that are informative as well, and I have yet to see anything negative about the course, other than a few people who criticize the obnoxious style in which the Rich Jerk portrays himself, but that has nothing to do with the quality of the system itself.
I want you to succeed and applying the information in this program can definitely help you do so. That is why I recommend buying it now. This jewel is truly a must have for almost anyone in the online marketing industry or looking to get into it, and I don't say that very often at all. I guess that concludes my Rich Jerk review. It's extremely rare for me to recommend a product so highly. Yes, it's THAT good!
Affiliate marketing tips videos are often very basic, and don't really tell much. Last week's Future of Publishing video (linked above) went beyond that as Oliver Roup of VigLink gave in-depth interviews with affiliate marketing gurus. This week, we continue the interviews in part two in Future of Publishing. Check it out below:
Highlights:
Know who you're marketing to…
Spend time writing good copy…
Remember that you're a trust agent!
Nobody ever said internet marketing was easy. In fact, the vast majority of people who try to make money online do not succeed, and many that do are only barely scraping by. Part of this is because they do not do proper marketing research before they get involved in their niche or they choose a niche that they're not interested in. Other times, it is because they do not have a good monetization strategy.
In this Future of Publishing episode, VigLink CEO, Oliver Roup, interviews a panel of affiliate marketing experts so that you can learn how to monetize your site through affiliate marketing.
Highlights:
Affiliate marketing works…
If it's well-aimed…
And you're selling a good product!
What are you going to be doing over the next year or two that has a significant impact on your life?
Would you like to build a business, one that helps you to buy your freedom, such that you no longer have to work at a regular job?
What if you could work on such a business in your spare time, and that business was paying you $1,000/month at the end of two years?
What if you quit your day job, put only 20 hours each week into your business, and then grew it to $2,000/month in income?
What would your life be like if you could earn several thousand dollars per month with only an investment of an hour or two each day?
I can tell you what your life would be like, because I have achieved the legendary four hour work week.
Life is awesome when you own a lean online business. It is almost like being on a permanent vacation, where you only work on something when it gets you excited to do so.
That may sound like a completely impossible fantasy, but it is actually not that complicated to achieve.
While the plan to build passive income is relatively simple, that does not mean it is easy to execute. There is a difference. However, let me show you just how simple it can be to achieve the four hour week and thus buy your freedom back from society.
A simple business plan
Create a single website. Just one.
Oh, I know…. conventional wisdom dictates that everyone needs to diversify, lest they risk losing their online income that they have worked so hard to achieve.
Let me tell you a secret though: Building authority and link juice for a website is tough.
It's so tough, in fact, that I strongly urge you to only try to do it once. You'll understand why when we look at the promotional strategy.
I would also urge you to choose a topic for your website in which:
* You have at least some working knowledge or expertise.
* The products or services being advertised around your topic cost over $100.
In other words, choose a profitable topic for your website that you can write about with real authority.
You can determine profitability by looking at existing websites based on your topic. What are they advertising? How much does it cost? If the cost is very low, move on and find another topic.
If you have a team of writers working for you, by all means, start several websites. But if you are going to be the only one publishing content on your website, I would urge you to just start a single site and put all of your energy into it.
A simple content strategy
Create articles for your website that are:
* Detailed, in-depth, and insightful.
* Original, with a depth of knowledge that goes beyond what is already available on the web.
* Useful to the audience in a specific way. Consider including action items that the reader can implement directly.
Thoroughly research the internet regarding your content and identify the absolute best information currently available. Your job is to create a website that is superior to what you find.
Each article you publish should explore slightly different ideas and concepts regarding your topic. Each article should target unique long tail keyword phrases in the post title.
Quality of content must remain extremely high. That said, volume matters as well, and publishing three articles daily is ideal.
Balancing volume and quality is tough. Publishing one quality article per day will result in slow growth. Publishing three per day will result in exciting growth within a year or two.
A simple promotional strategy
Build relationships with other website owners in your niche, with the goal of landing a guest post some day.
That's it. That is the entire promotional strategy. Very difficult to do in high volume, but take your time and keep plugging away at it. Websites need time to age anyway.
There are dozens of ways to manufacture cheap links and give your website a quick boost in the search engines. All of these "cheap" methods are losing their effectiveness over time because the search engines are always improving at measuring real trust and authority.
The simple way to promote your website is to build real trust and authority. You can do that by building real relationships and creating amazing content.
Your promotional strategy hinges on having premium content. No one wants to link to a poor quality website. No one wants to publish a guest post that is anything less than premium quality. Therefore, an important part of your promotional effort is to focus on creating amazing content–both on and off-site.
Simple but not easy
I built a profitable website and sold it for six figures by:
* Building a single website in a profitable niche.
* Publishing lots of quality content–around 1,500 articles total.
* Promoted the site with real relationship building and guest posting.
Looking back, it was dead simple. I published helpful articles every day and did a bit of promotional work. The promotional work was probably only five percent of the effort, while creating the website itself was ninety five percent.
Anyone can do this with almost zero overhead and only a consistent time investment on their part. The question is, who will do it, given that it is so difficult?
What about you? Are you motivated to purchase your freedom by building a simple internet business?